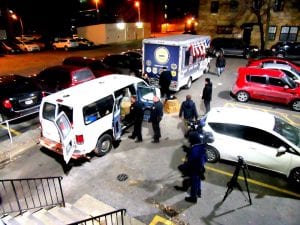 The Second District Sock & Underwear Drive took place on Friday evening, February 2.  Originally put together to benefit homeless people served through the Metanoia Project, Sergeant Mitch Sheehan started this initiative with Metanoia in 2015, and Sergeant Tim Maffo-Judd has picked it up for 2018.
Thank you to Sergeant Tim Maffo-Judd and the officers of the Community Services Unit; thank you to Captain Keith Sulzer and the Cleveland Police Foundation; thank you to the Cleveland Chapter of the Guardian Angels; and thank you to everyone in the community who donated to this cause as a way to help people suffering through another Cleveland winter.
Thousands of items were collected, including sweatshirts, coats, hats and gloves, along with socks and underwear. These donations will continue to be collected through February, and can be dropped off at the Second District, located at 3481 Fulton Road.
For more information on the Metanoia Project, providing shelter and hospitality to people experiencing homelessness, please visit metanoiaproject.org