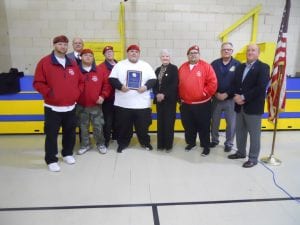 On Thursday December 5, 2019 the Second District/ Community Relations Awards Ceremony was held at Our Lady of Mount Carmel Church. A fine crowd was on hand including Mayor Frank Jackson and Chief Calvin Williams to honor both officers and citizens that went beyond the call of duty. The Cleveland Police Foundation also honored the following individuals with our Community Service Awards, P.O. Gerson Martinez, Co-Chair of the Community Relations Committee Leah Adams and last but not least the Guardian Angels. Upon completion of the awards a delicious meal was served provided by the committee!
A big thank you goes out to CPF board members Marcia Nolan, Rick DeChant, Steve Anthony and Dick Clough for assisting Bob Guttu (CPF Community Outreach Coordinator) with the presentations.
Congratulations to the Cleveland Police Foundation for being awarded a Certificate of Appreciation by the Second District Community Relations Committee for their outstanding involvement and dedication to the citizens of the Second District. Congratulations to all the officers and citizens that were honored on this very special night and keep up the good work!
Submitted by Bob Guttu, CPF Community Outreach Coordinator