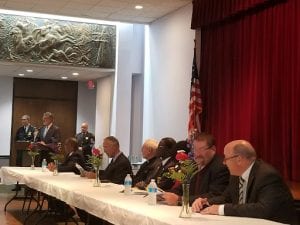 The Annual First District Police and Community Relations Award Ceremony was held on November 1st at St. Mary's Romanian Orthodox Church. In attendance were numerous city dignitaries, family, friends and many from the community to honor the officers and citizens being recognized.
On hand to present the Cleveland Police Foundation Annual Community Service Awards were board members Nancy Feighan and Jim Craciun. This year's recipients were Officer Tim Riley, Jennifer Mahoney and Athens Pizza.
Upon completion of the awards presentation a meal was provided by the Community Relations Committee.
Congratulations to all the award winners on a job well done and keep up the good work!  You all are very much appreciated!