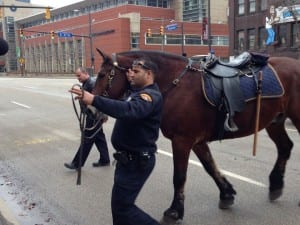 Police officers here scrambled through downtown streets Wednesday chasing an elusive suspect — a police horse named Jack.
Jack, a horse with the department's mounted unit, was tied up at Erie Street Cemetery on East 9th Street. He got loose around 3:30 p.m., police spokesman Sgt. Ali Pillow said.
Jack galloped through Playhouse Square, then headed north toward Lake Erie. Police cruisers caught up with Jack as he trotted east on Superior Avenue, and corralled him near East 21st Street.
Pillow said there were no reports of injuries or property damage. Officers at the scene said Jack stayed on the street during his romp through downtown, but he didn't stop at red lights.
Pillow said officers have not determined a motive for the escape. Read more…