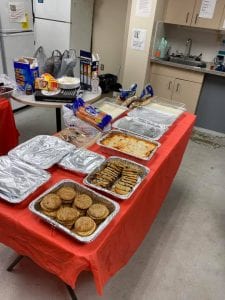 The Cleveland Police Foundation wants to thank Robin Ward and her family for reaching out to help feed patrol officers during this difficult time in Cleveland!!
The Ward Family made 3 trays of lasagna, 2 cheesecakes, cookies, Rice Krispies Treats™, and even brought snacks for our Mounted Unit!!  The horses appreciated the carrots and apples after working hard during the stressful times in the CLE!!
After a week of challenging 14 hour days, the Cleveland Police truly welcomed the positive energy generated by the good works of Robin and her family!!