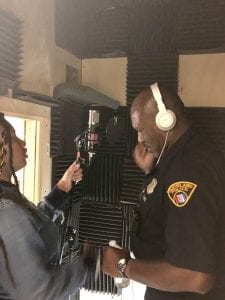 Cleveland Cops for Kids, the Second District, and Community Policing spent some time at DJ Doc's Fresh Camp on Friday July 12th as they shared a meal and made some music!
The Fresh Camp is a summer program teaching inner city youth how to create positive themed hip hop and rap songs. Some of the themes they tackled were giving kids a voice, Cleveland's lead paint crisis, and reducing violence in our streets.
Cleveland Police Officer John Fore, forever known from now on as John E Fore "Gotten", even laid down a beat with the kids to everyone's amusement!!
Cops for Kids provided Crust Pizza for lunch. (Crust Pizza was named one of Cleveland's Own by Kaulig Charitable Giving Programs and featured on Fox8 !!)
A big thanks to DJ Doc and his brother Lee Harrill for bringing police and our youth together for some positive interaction!!