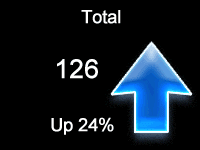 According to the National Law Enforcement Officer Memorial Fund (NLEOMF) in Washington, D.C., disturbing preliminary reports are that at the close of 2014 a total of 126 law enforcement officers died in the line of duty. "Law Enforcement fatalities in the U.S. rose 24 percent in 2014, reversing what had been two years of dramatic declines in line of duty deaths, based on preliminary data compiled and released on December 30, 2014 by the NLEOMF."
In the U.S., deaths by firearms was the leading cause, with ambush being the leading circumstances. The recent ambush murder of two NYPD POs made abundantly clear the dangers officers face, and sadly the lack of respect for the rule of law by a small, but increasingly vocal minority.
We pray for the safety of all law enforcement officers who bravely serve our communities and ensure peace and safety in our country. They truly are the thin blue line between a peaceful society and anarchy.
Read the rest of the Preliminary 2014 Law Enforcement Officer Fatalities Report here…