The Cleveland Police Foundation, in a strategic partnership with the Cleveland Division of Police, have jointly designed the Public Safety Career Pipeline Program to develop a pipeline of highly qualified candidates interested in a career in law enforcement.
How to Help This Program
We are seeking to raise funds to purchase a portable system to utilize in our training of our Explorers & Pipeline kids, as well as in a community trust building program. To learn more about the system and to make a donation, please visit this page.
Needs Statement
According to USA Today, experts and police officers say a force that racially and ethnically reflects the population of the community can improve relations between police and residents, dispel mistrust and communicate more effectively. In the City of Cleveland, the ethnic and racial make up does not reflect the city's population in that 53.3% of the residents are black (according to NEO CANDO System at Case Western), and only 23.1% of the police is black, of which only 5.4% are black women. Moreover, 66.3% of the police is white, with white men comprising 59.3% while white women only make up 7.0% of the police (Dec. 5, 2016 staffing auditing report by the Cleveland Division of Police). Below is a table demonstrating the foregoing disparity between the staff at the Cleveland Division of Police and the City of Cleveland: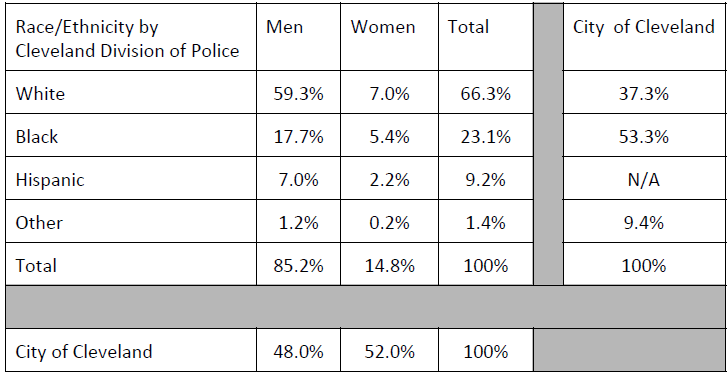 However, recruitment in underserved areas have presented several challenges. According to Jeffrey Benzing, author of the article "Police struggle to recruit minority officers," policing often isn't an attractive profession in communities that see officers as antagonists who profile them, treat them disrespectfully and in the worst cases, beat or even kill them. Additionally, between high school graduation and the age of 21, when one is eligible to serve as an officer, prospective candidates oftentimes make choices that prevent them from successfully passing the background check.
The Program
The Pipeline Program will catalyze students to become police officers, dispatchers, corrections officers, forensic laboratory technicians, cybersecurity analysts and military leadership. The program will achieve the following outcomes:
Generate interest and respond to increased inquiries for careers opportunities in public safety among youth in underserved areas.
Close the current gap between high school graduation and eligibility age to apply to enter a career in public safety (known as the "Gap Years").

Prevent candidates from establishing a criminal record during these Gap Years, allowing them to pass a background investigation;
Prepare candidates to successfully pass the Civil Service Exam and physical fitness exam; and
Address financial needs (tuition and living costs) during the Gap Years.

Develop leadership skills and a sense of community in young adults.
Phase One: Explorers Program
The Explorers Program is a division of the Boy Scouts of America. The Law Enforcement Explorers Program is a character building and mentorship program that empowers youth to achieve their full potential, personally and professionally. It is designed to educate and engage young men and women, ages 14 to 21, in police operations and to interest them in public safety functions whether they enter the public safety field or not.
As an Explorer, young adults have the opportunity to assist the Cleveland Division of Police and other law enforcement agencies in their community policing program. In addition to gaining valuable knowledge of police work, the participants are provided with an opportunity to give of themselves to their community.
Phase Two: College & Career Training (Industry Certification & Associate Degree)
1. Enroll at in Associate Degree in Criminal Justice Program (eligible for KeyBank Scholarship)
YEAR ONE

Fall: Take general education courses towards fulfilling degree
Spring: Participate in private security academy and obtain industry certification. All of the coursework taken in this academy (12 credit hours) would be applied towards their associate degree.

YEAR TWO : Work towards completion of associate degree.
2. Enter into a Public Safety Agency Cadet Program. This two-year, paid internship program would provide an opportunity to gain valuable work experience in a public safety environment to students aged 18 to 21 who are enrolled in the Tri-C Associate Degree Program for Criminal Justice. The students, known as "cadets" would be assigned to police, field offices, and central headquarters. This work will enable them to work side by side with police officers and police supervisors in various public safety agencies. Cadets would provide an essential service in providing additional support for special events throughout the city, thus enabling police officers to address more high crime enforcement services. This program would also provide a prospective employer with an opportunity to observe a candidate's performance in real time.
In addition to being gainfully employed and furthering their education, cadets receive mentoring about good citizenship, community service, training and indoctrination in the philosophy of community policing. Also, while serving as a cadet, he/she will receive further reinforcement about the value of community service and engagement. This cultivation ensures that the philosophy of community policing is embedded into the culture of the Cleveland Division of Police and other public safety agencies. Thus, community policing transforms from a "That's what they do/we do" to "This is who we are."
Phase Three: Public Safety Career
Upon reaching the eligibility age of 21, individuals who have successfully completed the Public Safety Career Pipeline Program would be not only eligible but also highly qualified to become Cleveland Division of Police Officers or enter another public safety agency.
---
Summer 2017 Recap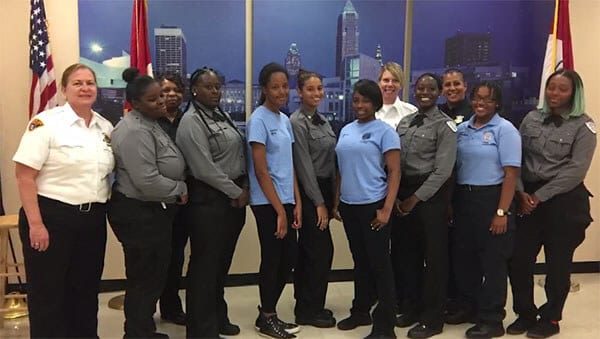 This summer, the Cleveland Police Foundation hosted 60 high school students in its newly created Public Safety Career Pipeline Program ("Pipeline Program") to support the Cleveland Division of Police in its recruitment efforts to increase the number of women and minorities in public safety.  During the 5-week program, students participated in Tri-C's Public Safety Youth Academy where they received a taste of police academy training, as well as training in Fire and EMS.
Over the course of three weeks at Tri-C in summer 2017, students learned things like proper radio communication, traffic control, ethics, constitutional law and search-and-seizure tactics. The training was consistent with what they would receive in the real academy. During the next two weeks, students applied their training with the real world through field experience which rotated them through the various divisions of the Cleveland Police Department, the Greater Cleveland Regional Transit Authority Police Department (RTA) and NASA Glenn Research Center, Office of Protective Services (NASA). While with the Sex Crimes Unit, students reviewed the statutes governing sex crimes and learned how something as simple a sexually explicit photo can lead to prosecution.
Pipeline participants also received training in judgmental/use of force scenarios utilizing the RTA's Shoot House Simulation System and the NASA's Meggitt BlueFire weapon simulator. During taser training at RTA, one student quickly realized an error made during the use of force simulator. He commented that he wish they would have had the taser training beforehand. While trying to make a quick decision on which weapon to use, he improperly fired the taser at the suspect's neck. While at NASA, students also had an opportunity to receive hands-on training in defensive tactic scenarios, including handcuffing, and use of less lethal weapons.
To connect the work of public safety with the judicial system, students spent time with Cleveland Municipal Court Judge Michael Sliwinski and Cuyahoga County Juvenile Court Judge Michael Ryan learning about the perspective of the judges and how the law is applied in various matters. In a drug case whereby students served as Prosecutor and Public Defender, one student vehemently argued that jail time was not the appropriate disposition for her client, but treatment. In later discussions with Judge Sliwinski, she learned about Cleveland's Drug Court and reaffirmed her view that the Court should provide treatment when possible. With Judge Ryan, students observed the active disposition of cases affecting youth their age, and discussed the importance of school, and engaging in positive programs such as the Pipeline in staying out the juvenile court system. Judge Ryan shared his personal story of overcoming his challenges and encouraged students to write their own stories in spite of their circumstances. Adding to their experience, students met with Acting U.S. Attorney David Sierleja and his team to learn about the Consent Decree, as well as how the federal government partners with local agencies to improve public safety and federal vs. local jurisdiction, and discussing various cases to apply that knowledge.
Students culminated their experience at Hiram College, where they spent three days in the life of a college student. During a college level genetic diversity lab, students learned how genetics is applicable in public safety, particularly in the area of forensics. They also met with the Admissions Department to learn about admissions requirements and financial aid. Recognizing the wellness challenges of public safety officers, students had the unique opportunity to work with Rebecca Reynolds to learn some mindfulness practices such as silencing the mind, breathwork, mudras, acceptance practices and visualization. Students concluded their retreat at the Northeast Ohio Medical University with a tour and discussion about the vast opportunities at its facility.
Students were greatly appreciative of the experience and networking opportunities presented by the Pipeline Program. One student's takeaway was that he learned a lot of about things he would have never been exposed to. He became so emotional in recapping his experience, he fought back tears. Most of the participants plan to pursue a career in public safety.
Video: Square Talk Interviews Angela Bennett on Pipeline Program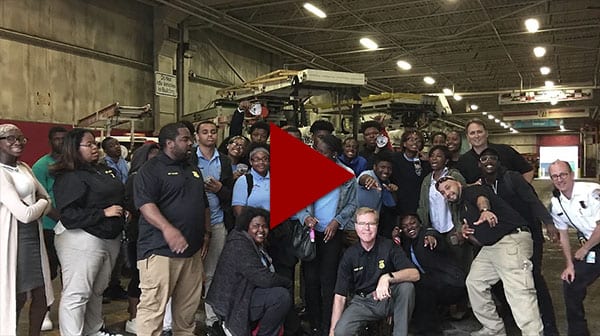 ---
Community Champions
Thank you to the following partners for their support:
Youth Opportunities Unlimited
Cuyahoga Community College Public Safety Training Center
Northeast Ohio Medical University
Boy Scouts of America – Greater Cleveland Council
Greater Cleveland Regional Transit Authority Transit Police
NASA Glenn Research Center, Office of Protective Services
Cleveland Municipal Court Judge Michael R. Sliwinski
Cuyahoga County Juvenile Court Judge Michael J. Ryan
United States Attorney's Office for the Northern District of Ohio
Cleveland Division of Police
Hiram College
Cleveland Metropolitan School District Police Department
Rebecca Reynolds, Soul to Earth Wellness
Cleveland Councilman Zack Reed
Imagine Youth, Inc.
Hot Cards
Ohio Guidestone
Martin Luther King Jr. High School
Additional Resources
BestColleges.com's In-Depth Guides on Criminal Justice Studies
These open-use guides facilitate procedural steps to earning a criminal justice degree and supplement current and future law professionals with critical information concerning practice concentrations, employment outlook, scholarships, and more.