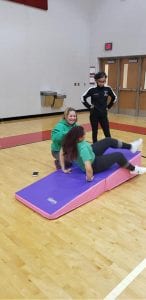 First District Community Engagement Officer Kerry Adams helped out the John Marshall High School cheerleading team with their tumbling!!
The coach of the Marshall cheerleaders called on Kerry because of her many years of gymnastics training and coaching!!  AND…Officer Adams was just honored by the CPF with a Community Service Award!
Bellaire Puritas Development Corporation wrote a grant to get mats for the team. Great job by Officer Adams for helping these young ladies and our Cleveland Metropolitan School District partners!!