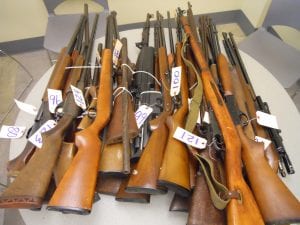 The Cleveland Police Foundation is once again pleased to report on the success of the 12th Annual City of Cleveland Gun Buyback, held on Saturday, October 20, 2018 at the CPD 3rd District Headquarters. Funded through a grant generously provided by ArcelorMittal to the Cleveland Police Foundation, the Cleveland Division of Police collected, inspected, catalogued the firearms. They will eventually prepare the firearms for disposal at the ArcelorMittal plant for recycling into new steel.
This year a total of 185 firearms were turned in for $100.00 gift cards provided by our longtime supporters and community partners – Dave's Supermarket, Target and True North Shell. The 185 firearms collected this year included 146 handguns and 39 long guns (rifles and shotguns).
This event helps to make our neighborhoods safer by eliminating the chance of these weapons being used to commit violent crimes, or possibly discharging accidently and causing harm or even death.
We would like to thank ArcelorMittal for their continued commitment!