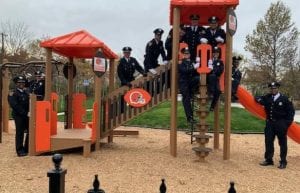 A special gathering to honor Officer Owens occurred on this brisk November morning.  Many community partners and organizations had come together to make the Officer Derek Owens' Memorial Park possible.  The reflective park is in the memory of Officer Owens and in unity with his family as a way for the community to show their respect and condolences.
Cleveland Police Officer Derek Owens was shot and killed in March 2008 while responding to a call on Parkview Avenue in the Fourth District.  He loved serving his community and left behind his wife, Ericka, his two children Sydni and Chandler, his parents, Wayne and Barbara, and his sister Dawn.
The Cleveland Police Foundation is the owner in perpetuity and will provide the maintenance and upkeep of the park.
Thank you to all who contributed to make this tribute a reality!
ABOVE:  Cleveland Police Officers pose on the park play-set donated by the Cleveland Browns