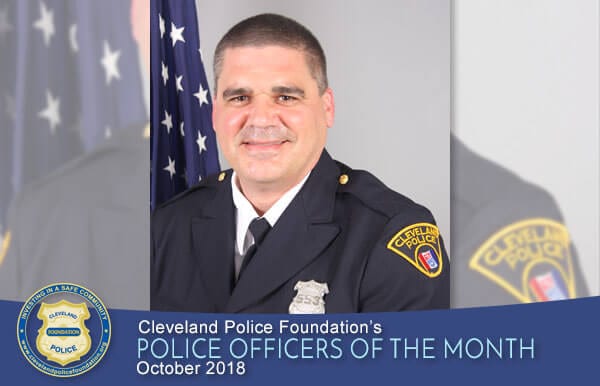 First District Patrol Officer Louis Kitko is a tremendous example of an officer who cares for his community and the people he serves. Officer Kitko, a 20-year veteran officer, always has badges, coloring books, and child identification kits on hand in the First District lobby to pass out to children who stop by with their parents. He recently reached out to the Cleveland Police Foundation and personally purchased over $600 in Cleveland Police teddy bears to pass out while on duty. Whenever Cops for Kids has a fundraising event, Officer Lou continually volunteers to sell tickets and helps support and promote the events.
When asked about Officer Kitko, First District Commander Daniel Fay stated, "Officer Kitko represents some of the essential traits of every police officer: he's community-oriented, has a great work ethic, integrity, he's a problem-solver and is service-minded. He is always willing to go the extra mile to assist a fellow officer or citizen in their time of need. Officer Kitko is an asset to the First District and the Cleveland Division of Police."
The Cleveland Police Foundation and Cops for Kids want to thank Patrol Officer Lou for creating a better relationship between the Cleveland Police officers and the children we serve.
It is because of this devotion we recognize Patrol Officer Louis Kitko as the Police Officer of the Month for October 2018.
More about the Police Officer of the Month Program . . .