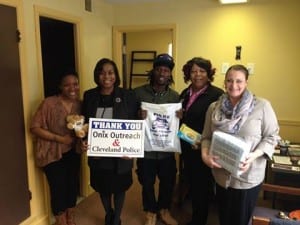 Debra Baker and staff from Northern Ohio Recovery Association want to thank Onix Outreach, Target, and the Cleveland Police Foundation for donating food, diapers, and toys, to the newest recovery home facility for homeless women and their children.
NORA Opens New Recovery Home to Homeless Women and Their Children
(Cleveland, OH) — On Monday, March 2, 2015 the Northern Ohio Recovery Association (NORA) opened the doors of its new residential, recovery home facility to homeles…s women and their children. The Next Step Recovery House is located on Cleveland's near Westside and provides women in recovery a safe place to live, in a home-like atmosphere.
Through an inner network of supportive services, residents receive counseling, case management, recovery coaching, peer to peer support, and GED classes in conjunction with Cuyahoga Community College. Childcare services are provided for children six weeks to five years-old.
According to DeBorah Baker, Program Manager of the long-term residential recovery home facility, the ultimate goal of programs and services, is for women to achieve permanent housing, physical, emotional and financial well-being.
The Northern Ohio Recovery Association was founded in 2004, by Executive Director Anita Bradley, to prevent the use of alcohol, tobacco and other drugs, utilizing a holistic recovery and healing approach.