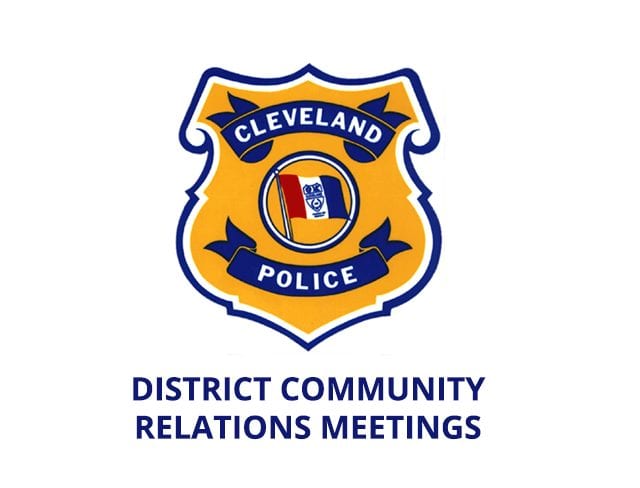 Please take some time to join us at the Fifth District Community Relations Committee Meetings.
It's an excellent opportunity to get to know the Fifth District Police Commander, Supervisors
and Officers; to learn about the many important resources available, and a chance to become
involved with activities that improve our community.
Our Fifth District meetings are held at various locations monthly at 6:30 p.m.:
WEDNESDAY, MARCH 20, 2019
Five Points Community Center
813 E. 152nd St.
WEDNESDAY, APRIL 17
Collinwood Recreation Center
16300 Lakeshore Blvd., Cleveland
WEDNESDAY, MAY 15
Liberty Square Apt
10004 St Clair Ave
WEDNESDAY, JUNE 19
2019 Five Points Community Center
813 E.152 St.
WEDNESDAY, JULY 17
2019 Cornerstone Sr Apt
18221 Euclid Ave
WEDNESDAY, AUGUST 21
Morning Star Towers
10600 St Clair Ave
WEDNESDAY, SEPTEMBER 18
Wilson School
1126 Ansel Rd
THURSDAY, OCTOBER 17
Cleveland Job Corps
13421 Coit Rd.
Annual 5th District Awards Banquet, food and beverages will be served
WEDNESDAY, NOVEMBER 20
St. Martin Deporres Center
1264 E 123rd Superior
WEDNESDAY, DECEMBER 18
Annual 5th District Christmas Party
Five Points Community Ctr
813 E. 152nd St.