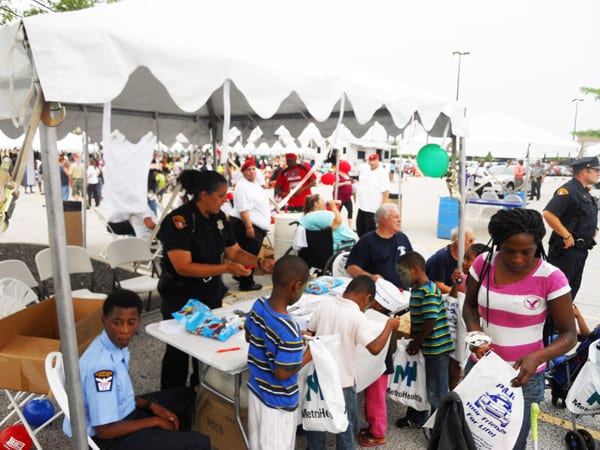 Children visit the tent manned by Community
Policing Officers and receive handouts and safety tips
from them.
On August 5, 2014 the 8th Annual National Night Out Against Crime was held at Steelyard Commons on Cleveland's near west side. Hosted by First Interstate Properties, the event drew approximately 5,000 people, including Mayor Frank Jackson, Chief Calvin Williams, 2nd District Commander Tom Stacho and numerous city officials and dignitaries.
Steelyard Commons has hosted National Night Out Against Crime (NNO) for each of the eight years on the first Tuesday in August, and this year welcomed over 5,000 adults and children during just four short hours.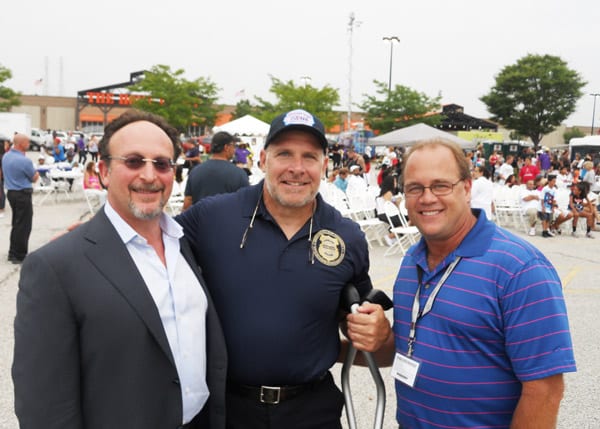 Captain Keith Sulzer in the middle, is flanked (right)
by First Interstate Property's Mitchell Schneider,
and (left) by Scott Ochocki of U-Haul Inc.
The NNO campaign involves local citizens, law enforcement agencies, civic groups, businesses, neighborhood organizations and local officials. National Night Out is designed to heighten crime, drug and violence prevention as well as strengthen police and community partnerships.
In 2012, the National Association of Town Watch recognized NNO at Steelyard Commons for its Outstanding Participation in "America's Night Out Against Crime." The award is currently on display at Cleveland City Hall, in the Community Relations Department.
Attendees took advantage of the opportunity to meet civic officials and safety forces members, learn about public safety, crime and fire prevention, as well enjoying games, activities, snacks and prizes handed out by local merchants.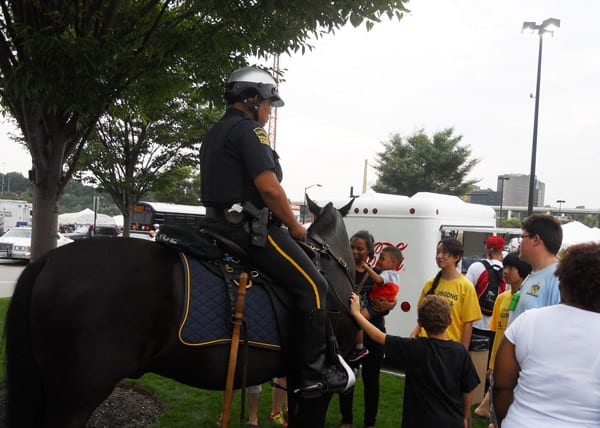 Officers from the Cleveland Police Mounted Unit
were on hand to visit with the children.
Thanks to all that participated, especially the divisions of police, fire, & EMS and other city departments, as well as other federal, state, county and local law enforcement agencies and civic organizations.
A very big thank you goes to First Interstate Properties, for being such a gracious host and making the event one which does our region proud!