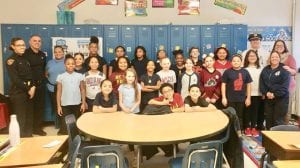 "To be appreciated you must appreciate!!"
January 9th was National Law Enforcement Appreciation Day, so Cleveland Police Officers decided to spend some time at Westside School of the Arts appreciating the students and staff that helped us feed those in need in Cleveland!!
The school held a canned food drive for the Cleveland Police Foundation and Sea of Blue and donated over 1,000 pounds of food to St. Augustine's Hunger Center over the holiday season. At a thank you pizza lunch, the school presented the officers with every police officers' dream, a giant cream filled chocolate donut!! LOL
Thank you Westside School of the Arts for helping CPD and CPF help others and for appreciating the law enforcement community!! Thank you also to our wonderful First District Community Engagement Officers and our good friends at Crust Pizza!!