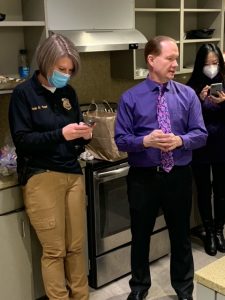 Once again, local businessman Dave Mortach and WTAM disc jockey Mike Trivisonno showed their support for our CPD Heroes in Blue!
Over the holidays, the duo provided Third District Officers with five large sheet cakes to be distributed to the officers on each shift.
Dave (shown in photo at left) and Triv had been our CPF Community Partners in October 2020 when they made it their mission to offer free lunches to all five Cleveland Police districts plus Public Safety Central.
Thank you to Cleveland Police Foundation Executive Director Rick DeChant for joining me at this event and a big 2021 shout-out to Dave and Triv!
Submitted by Bob Guttu, CPF Community Outreach Coordinator