Puritas Nursery owners Dale and Julie Heyink enhance the work environment for Third District personnel, earning July 2023's Community Partner of the Month recognition.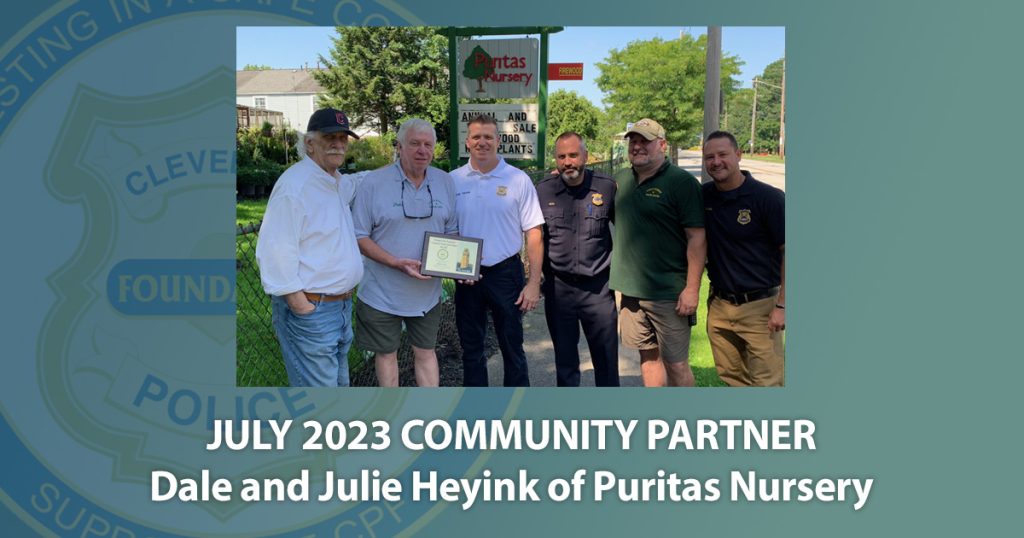 In an effort to improve morale, Third District personnel attempted to beautify their workplace. The supervisors reached out to the Cleveland Police Foundation's Board Chair Dick Clough, who in turn contacted Dale and Julie Heyink, owners of Puritas Nursery, who are long-time supporters of Dick's "Tour of Good Cheer" event now in its 39th year.
Dale and Julie did not hesitate to provide ten planters pre-planted with flowers that were placed at the entrance to the Third District, and mulch distributed around the district flagpoles.
When approached for comment Third District Captain Tim Maffo-Judd stated, "Since the pots and mulch have been in place, police, fire and EMS personnel have overwhelmingly vocalized the positive change making a big difference as they enter the building allowing all of us to start our workday feeling good."
It should also be noted that Puritas Nursery also helped the First District spruce up the outside of their building.
It is because of their support for our CPD Officers and the "Tour of Good Cheer " event that the Cleveland Police Foundation is proud and honored to name Dale and Julie Heyink of Puritas Nursery our Community Partner of the Month for July 2023. 
~ Bob Guttu, CPF
(Nominated by Third District Captain Tim Maffo-Judd and CPF Board Chair Dick Clough)