The Cleveland Police Foundation proudly announces that the recipients of our Community Partner of the Month Award for July 2019 are Trident Marine and Linda Mae Charters!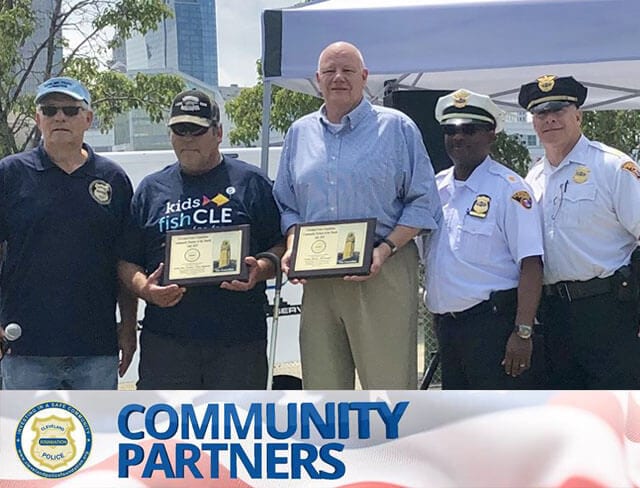 Ten years ago, then Cleveland Police Chief Mike McGrath brought together police officers from the Cleveland Division of Police and 30 kids from the community. They shared a morning of Lake Erie fishing on Trident Marine's charter boat Holiday, with owner and Captain Wayne Bratton running the vessel.
This event was met with great appreciation from both the officers and kids. "Hanging out" together in a relaxed atmosphere  strengthened the bonds between them. This experience became an annual event as the Cops for Kids Fishing Outing was born.
Eventually, the gathering became large enough to include another boat and Captain Vitus Kijauskas of Linda Mae Charters. Just like Trident Marine, Linda Mae Charters charged a nominal fee to ensure the Cops for Kids event would continue to the present time.
Both Wayne and Vitus have always gone beyond the call of duty to make sure the cops and the kids have a good time and were always available for our trips on the lake. Unfortunately, Captain Bratton passed away last year from an extended illness. However, his devotion and dedication to our cops and kids will never be forgotten. Captain Wayne's son Bill has taken over the business and made it his goal to continue to make the Holiday boat available for our events.
It is with great pride that the Cleveland Police Foundation is honored to name Trident Marine (Bill Bratton) and Linda Mae Charters (Vitus Kijauskas) as the Community Partners of the Month for July 2019.