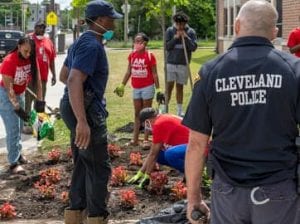 The Cleveland Police Foundation and Cops for Kids donated $400 to purchase flowers to help beautify Wade Park Elementary School's campus.
With the assistance of Cleveland Police officers, Wade Park School Principal Dr. Buddy, staff, and students cleaned up the campus, planted the flowers, spread mulch, and had a great time doing something positive for their community!!
The staff and students of Wade Park went to downtown Cleveland on the Sunday after the rioting of Saturday night, May 30th and helped clean up. Cleveland Police wanted to pay back so they pitched in and got their hands dirty as a thank you for caring!!
Great job by Dr. Buddy, staff, and students for the positive influence you have on Cleveland!!