The Cleveland Police Foundation proudly announces that the recipients of our Community Partner of the Month Award for January 2022 are Officer Kevin Watts, Officer Sean Lawlor, and Officer Kevin Rodriguez of Richmond Heights.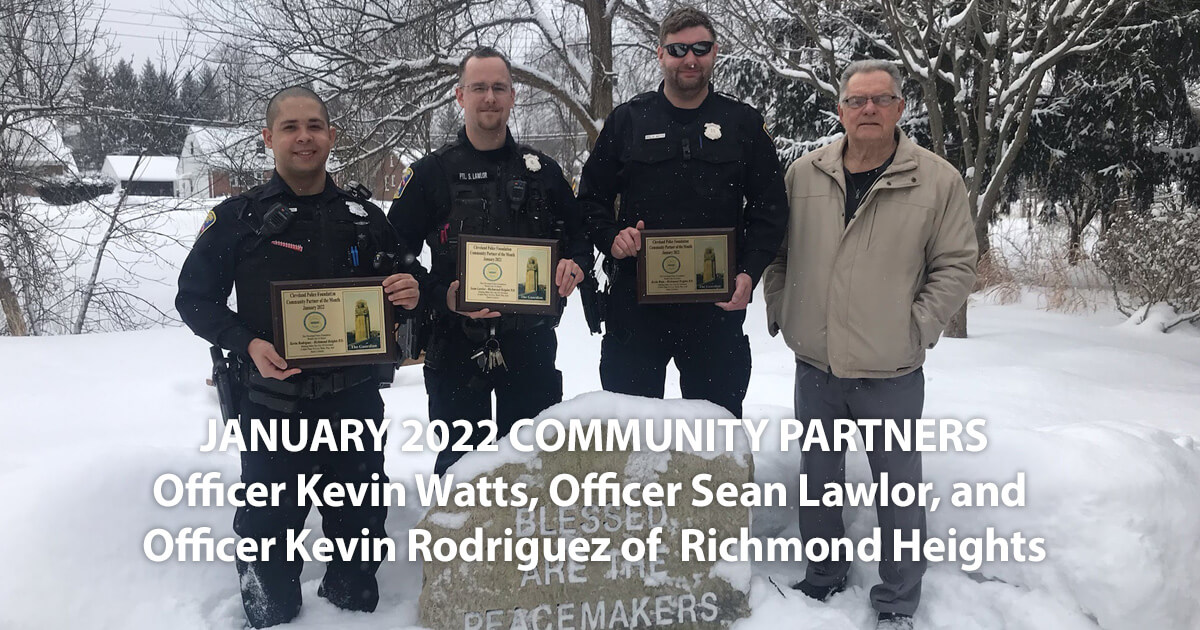 On New Year's Eve 2021, the Cleveland Division of Police lost a true Hero in Blue when off-duty Fifth District Patrol Officer Shane Bartek was shot and killed in a carjacking near Rocky River Drive on the city's west side.
As the suspects drove off in P.O. Bartek's car, a description of the vehicle went out to all law enforcement. It was subsequently spotted by Richmond Heights Officers Kevin Watts, Sean Lawlor, and Kevin Rodriguez, who began a pursuit.
These three officers followed the vehicle, often at high speeds as they put their lives at risk to stop these suspects implicated in Officer Bartek's death. The chase ended in an apartment complex in Euclid where an adult male was arrested and eventually an 18-year-old female, who was indeed the killer of CPD Officer Shane Bartek.
Cleveland Police Foundation Community Outreach Coordinator Bob Guttu recently visited the Richmond Heights Police Department to honor these three officers. He asked Chief Wetzel about this incident who stated, "These officers whose lives were put at very serious risk demonstrated courage and firm resolve while maintaining a calm professionalism. They performed extremely well and I'm proud of all they did that day." After meeting with the officers, Guttu (Retired CPD) felt that they were on a mission that night and failure was not an option. We thank these officers for a job well done!
It is because of their dedication and willingness to assist their Partners in Blue that the Cleveland Police Foundation is proud to name Richmond Heights Officer Kevin Watts, Officer Sean Lawlor, and Officer Kevin Rodriguez as their Community Partners of the Month for January 2022.