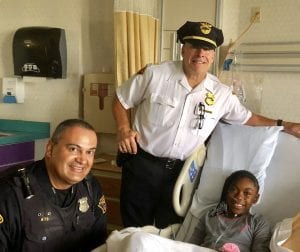 It is a time of reflection….to take stock in the good bestowed upon us and to remember those less fortunate.  The Cleveland Police Foundation works year-round to reach out to the community.  Whether it's bringing cheer to the Metro pediatric unit, distributing toys through Cops for Kids, or replacing a stolen bicycle, the CPF enables officers to assist both youth and adults.
Please consider a gift to the Cleveland Police Foundation during this Season of Giving by clicking on the Contact tab (above right) to become a "Friend" or to send a contribution to our mailing address.  (Donations are tax-deductible.)
Thank you in advance for your investment in the community!