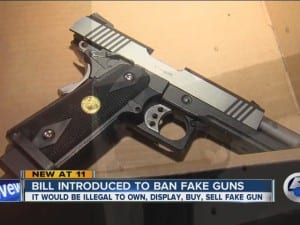 A state representative wants all fake guns that look realistic to be banned.
"Everything that looks like a gun and is not should not be on our streets," said Bill Patmon, a Democrat from Cleveland.
Patmon introduced legislation on Wednesday that would not only make it illegal to buy or sell a fake gun, it would also ban residents from owning or displaying one.
"One life is too many by mistake," added Patmon, who referenced the deaths of Tamir Rice and John Crawford; both Ohio residents killed by police when they displayed realistic looking, but fake guns.  Read more…