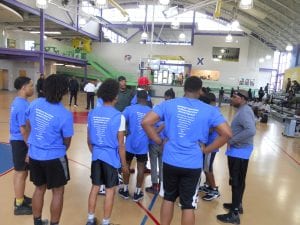 On Saturday May 4, 2019 the Hoopin' for Justice event was held at the Cleveland Job Corps Center.  A very enthusiastic group of kids and Cleveland Police Officers were on hand for this basketball game.  There were snacks served, music by DJ Incognito, and following the game, a mutual dialogue between the kids and officers.
When asked about the importance of the get together, coordinator Angela Thi Bennett stated "This combined effort by all parties attending will help build a stronger relationship between our youth and our police officers and there is a definite possibility we will have a follow up event to discuss some of the concerns of those involved."
Oh, and by the way…the game was won by the Gray Team coached by Rick Reynolds, the Fifth District Community Relations Representative!
A good job of teamwork and sportsmanship by all those involved!