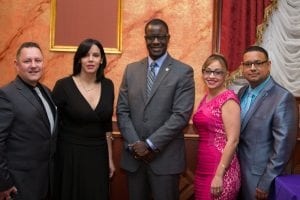 The 21st Annual Three Kings Dinner, Dance, and Scholarship Benefit has been scheduled for Saturday, January 6, 2018 and is fast approaching. It is held at the Tremont City Side Ballroom, 2187 West 14th Street starting at 6:00 PM, for a donation of $50 per person.
This event will be attended by hundreds of guests from the public safety workforce, their families, and other agencies who support this cause. With the help of these supporters, the Hispanic Police Officer Association has been able to make good on their commitment to the HPOA Scholarship Fund.
Please join us for an evening filled with great music, dancing, traditional Latin food, networking, raffles, and the cheerful & heartwarming holiday tradition.
Contact a member to reserve your tickets today!