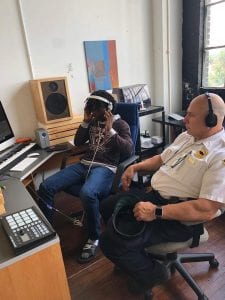 Fourth District P.O. Crystal Lewis sings some background on a hip hop song about bringing positive change to our community!! Crystal is a Community Engagement Officer in the 4th District and she and Captain Sulzer from Community Policing are working with the Refresh Collective and about 17 summer camp students on hip hop that will bring positive change to Cleveland!!
The officers talked to each group of students about the driving force behind their songs and gave them some honest feedback. Refresh Collective and MC2 School collaborated on this program in order to give these teens something positive, constructive and creative to do over the summer break.
Great job by DJ Doc and Lee Harrill!!