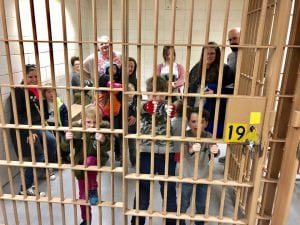 Community Policing and the First District hosted a field trip for the Happy Little Learners Co-op of home school families at the First District Police Station on Tuesday February 19.
Everyone had a great time showing the kids around the district as they met the many officers, detectives, and Commander Fay. The kids got to meet our good friend Officer Paul Fronckowiak and his K9 partner Jesse and learned all about police canines and their talents.
Afterwards, Cops for Kids bought lunch and everyone had a chance to talk about the experience. Each of the kids received a Cleveland Police gift bag courtesy of CPD and the Cleveland Police Foundation.