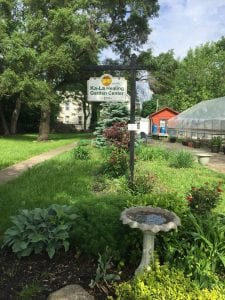 Third District Patrol Officers Petkac and Myers recently responded to a call for a break-in and theft of lawn equipment from the Ka-La Healing Garden near East 73rd and Cedar. Owner Tanya Holmes, the 2015 Ohio Farmer of the Year, uses the facility to teach children about lawn care and maintenance as well as how to garden and farm. Tanya was understandably upset. The officers wanted to see if they could help recoup some of her losses.  She needed to continue her program helping children in the community. The officers reached out to the Cleveland Police Foundation for help. In turn the Foundation, through some of its good friends, was able to donate and deliver a new lawnmower, 2 string trimmers, and 2 leaf blowers to Tanya.
Best wishes to Ka-La Healing Garden and Tanya in her mission to educate our inner city youth!!
CPF wants to thank our wonderful community partners, Lisa and Dean Fox, Michelle Merkosky from True Value Hardware, and Jim Willmott and Home Depot on West 117th.  All helping us to help others!!