2016 RNC Commemorative Collectibles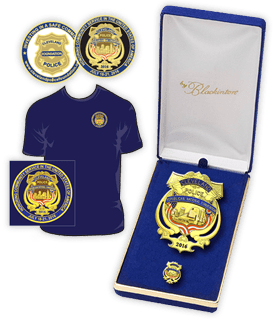 We are offering a number of limited edition items that commemorate this memorable occasion for Cleveland. The Cleveland Police Foundation is honored to be the official vendor for CPD RNC commemorative merchandise.
Badge • Lapel Pin • Commemorative Medallion • Mens and Womens T-Shirts
What We Do
The Cleveland Police Foundation funds youth and community outreach programs, community policing initiatives, crime prevention and safety programs, police charities, support for the members of the Division of Police to help them better perform their duties, investment in advanced education and training, and funding for specialized equipment and technology.
Some of the Efforts We Support
Unity in the Community
Handgun & assault weapon buyback
Cops for Kids fishing outings
Cleveland Police Children's Holiday Party
Uniforms for the CPF Pipes & Drums
Youth athletic programs
Cops for Causes
Partnering with umbrella charities
D.A.R.E. to Resist Drugs and Violence
Our officers' wellness and physical fitness
CPD Law Enforcement Explorer Post
2016 Annual Ask


Become a Sponsor

Dear Cleveland Police Foundation Supporter:

Community. Collaboration. Engagement.

These are the buzz words for strengthening police service throughout the USA. But, they are also words that describe the Cleveland Division of Police outreach initiatives.

The 5-year old Cleveland Police Foundation partners with our police officers to give back to the community. But more than that, together we build bridges, create opportunities for dialogue, and establish relationships. We are continuing a tradition that stretches back for 150 years.

The Cleveland Police Foundation is an alliance of business and civic leaders, individuals and organizations committed to the ideal that a dedicated, well-trained and modernly equipped police service leads to a safer community. Strengthening the bonds between citizens and police officers by supporting youth and community outreach events, engagement and police charitable endeavors is the cornerstone of its mission.

We invite you to review our 2016 Annual Appeal. Each sponsorship level carries specific benefits such as public recognition for support of our programs and mission, advertising opportunities, and other amenities.

We are asking you to join us by "Investing in a Safe Community" as a Cleveland Police Foundation Annual Sponsor. Together we can face the challenges, continue to assist our police officer in their efforts to provide exemplary service to the community and support their charitable outreach efforts.

On behalf of the Cleveland Police Foundation, I thank you in advance for your support, and together we can look forward to building a stronger community. We will be in contact with you over the next few weeks. Should you need additional information please feel free to contact us at (216) 623-3333 or via email – or Barbara Ragon at 216-924-8024.

Thank you,

Charles W. Lane, Jr.
Executive Director
Becoming a Community Partner (For Individuals)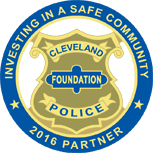 We invite individual citizens join us as Annual Partners of the Cleveland Police Foundation (CPF). Partnership provides individuals the opportunity to support the CPF in fulfilling its mission to support the members of the Cleveland Division of Police in its community policing and engagement efforts, youth outreach and other charitable endeavors.
Partners will receive material celebrating their participation in the program – a lapel pin, membership card and more.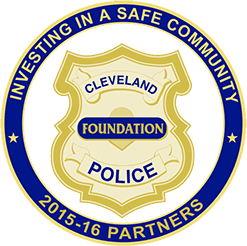 Join the POWER OF COMMUNITY!
Please help us accomplish our mission to support our Cleveland Police Officers in their efforts to engage the community and forge stronger bonds with the citizens they serve.
How the Cleveland Police Foundation Impacts the Cleveland Community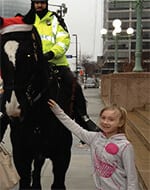 "Thank you so much for the generous gifts for the little girl who lost everything in the arson fire. The family was speechless and quite impressed with the outpouring of support, especially from the police. You truly are amazing! Merry Christmas to you, sir!"
– Steve, Cleveland Resident
---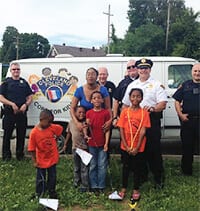 "The Cleveland Police Foundation provides resources to Cleveland police officers that allow them to reach out to those in need in our community. These resources allow officers to take the time to get to know the people they serve, and to put into action true community policing.
In the last few years that the Cleveland Police Foundation has been in existence we have seen just a small example of the compassion of our officers, and the possibilities are endless as we grow and expand with further resources through the donations by the Cleveland Police Foundation."
– Captain Keith Sulzer, CPD Community
Policing & Liaison to the CPF
---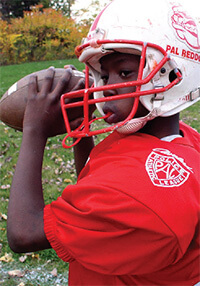 "We want to express our heartfelt thanks for paying the phone bills for Society for Nonviolent Change and The Youth Outreach Hotline. If not for those funds, we would have had to shut down a very vital service to the community. In addition, we are extremely grateful for the award of funding for the programs which will be a valuable asset to help "bridge the gap" between the Cleveland Police Department and the residents of the City of Cleveland.
These programs will provide a safe haven environment for our youth and assist with prevention and intervention measures we need to engage their families and the residents in proactive solutions for the challenges they face on a daily basis."
– Gregory W. Terrell, Executive Director
Society for Nonviolent Change
Kids Fishing Day Outings
Featured Articles