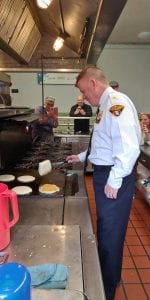 The Cleveland Police Foundation supported the First District Police/Community Relations' Pancake Breakfast on Sunday March 31 at St Ignatius Church!!
The church, located at Lorain and West Boulevard, hosted the breakfast to raise money to support events that will bring police officers and the community they serve together!!
Great job by the committee and First District Commander Daniel Fay and his officers!!
Thanks also to Councilman Brian Kazy for his support!!