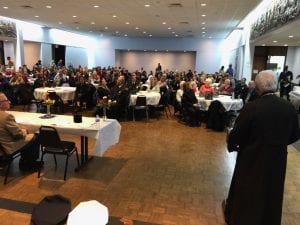 On Thursday, November 7th 2019, the Annual First District Police/Community Relations Awards Ceremony was held at Saint Mary's Orthodox Church. This event not only enables the First District Police/Community Relations Board to honor both police officers and citizens, but also gives the Cleveland Police Foundation the opportunity to present our Community Service Awards.
This year the CPF honored First District Community Engagement Officers Kerry Adams, Juan DeJesus and Lyniece Turner for their continued effort to work together with citizens, businesses, schools, and countless community groups to solve problems and make friends. Also honored was Home Depot for being an outstanding business partner to both the First District and the CPF. Further recognition was given to Val and Mitch Addy for their volunteer work not only in the First District but also city wide.
On hand to recognize all the recipients were Chief Calvin Williams, numerous city officials as well as Cleveland Police Foundation board members Rich DeChant, Jim Craciun, and Steve Anthony.
Upon completion of the awards presentation a delicious meal was served and a good time was had by all.!
Congratulations to all the recipients and thanks to all those who attended to honor these very special individuals!
Submitted by Bob Guttu, CPF Community Outreach Coordinator