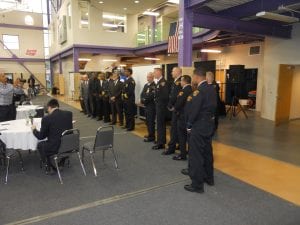 The 2018 Fifth District Police/Community Relations Awards Ceremony was held at the Cleveland Job Corps on October 18th, 2018.  An enthusiastic crowd was on hand to honor both police officers and citizens who willingly make their community a better place to work and reside. Also in attendance were Mayor Frank Jackson, Chief Calvin Williams and a host of other city dignitaries to recognize these special individuals.
Among these recipients were Patrol Officer LaKisha Harris, Deidre Lightning-Whitted and Swagelok Inc. (Gary Plona) – all winners of the Cleveland Police Foundation Community Service Award.
Congratulations to all the awardees!
A big thank you to CPF board member Nancy Feighan for her assistance and to the Job Corps staff for a great job in making this ceremony a success.
Submitted by Bob Guttu (CPF)