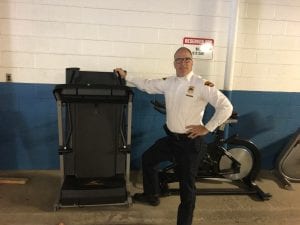 A big thank you goes out to Cleveland Police Foundation board member Doug Bugie for his recent donation to the Cleveland Division of Police Fifth District!
Doug donated a treadmill and exercise bike that will be added to the Fifth District gym. Lieutenant Montanaro, who picked up the equipment stated "The officers of the Fifth District would like to thank Mr. Bugie and the Cleveland Police Foundation for providing this equipment to us and rest assured it will be put to good use by our officers."
Thank you Doug for your contribution and dedication to our officers and the CPF mission statement:  To strengthen the bonds between the Cleveland Division of Police and the citizens it serves, working together to make our city safer for all. To accomplish that goal, the CPF works proactively to support and invest in programs, community policing initiatives and engagement, events that foster stronger relationships between citizens and police officers, and police charities.
Submitted by Bob Guttu, CPF Community Outreach Coordinator