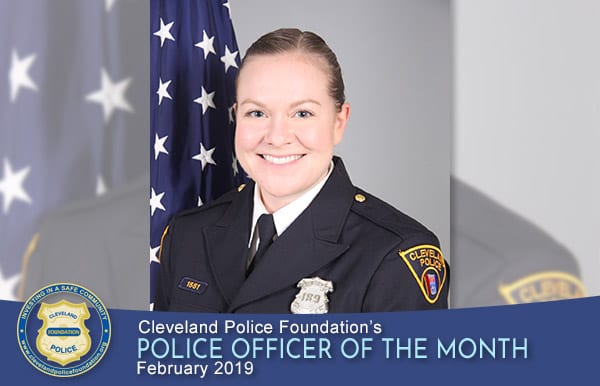 Last December, Fourth District Officer Antoine Payne's house caught on fire and was destroyed by water and smoke damage. Fortunately, no one was hurt in the blaze but everything inside was lost.
As soon as fellow patrol officer and partner Katharine Byrd heard of the fire, she bought the entire family food and refused to take money to help pay for the meals. The next day Officer Byrd helped organize a group of people to move PO Payne's entire family into her own home. She said there was no rush in having his family move out and to take his time getting his family back in order as well in finding a place to live.
One of PO Byrd's fellow officers, PO Ken Kirk contacted the Cleveland Police Foundation and stated, "I feel Patrol Officer Katharine Byrd should be recognized for going well above what's expected of a partner and friend by doing everything she has done and continues to do for Officer Payne and his family. She's an angel and a saint for her efforts." We also contacted Officer Byrd's immediate supervisor, Sergeant Stephen Beckner who stated, "I am extremely proud to work with Officer Katharine Byrd… her actions, as incredible as they are, do not surprise me at all. She is a great example of how a partner on the job is truly an extended family member."
It is because of her caring for a fellow officer in need and her devotion to her profession that the Cleveland Police Foundation is proud to name Patrol Officer Katharine Byrd as Police Officer of the Month for February 2019.