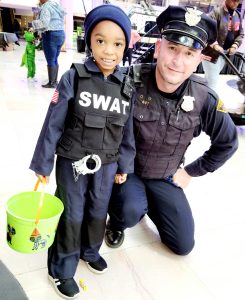 The Cleveland Police Athletic League partnered up with Tower City for a Halloween Happening!  What a fantastic event!
Tower City provided all types of fun entertainment, costumed characters, crafts, and of course loads of candy.  Hundreds of kids came to Downtown Cleveland with their families for this Halloween treat.
Patrol Officer Jimmy Thomas helped pass out candy and had a great time with all the little kids who dressed up to trick-or-treat!
Look forward as PAL hopes to make this an annual event – bigger and better next year!
PAL Executive Director Robert M. Kumazec, Jr., (216) 623-3360,  clepal.org/
"EVERY KID NEEDS A PAL!"