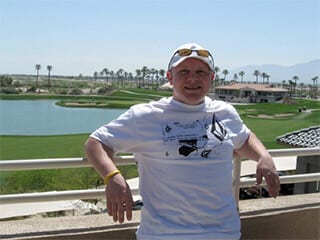 On Tuesday, January 24, while assigned to the First Neighborhood Police District, Police Officer David J. Fahey, Jr., and his partner were dispatched to assist another agency investigating a fatal motor vehicle accident on Interstate 90. Fahey was in the process of redirecting traffic with road flares when he was struck and killed by a hit and run driver.
David had a remarkable conviction for his job as a police officer and its invaluable purpose in society. He will always be remembered for his smile, quick wit, love of friends and family, and "Guinness," his beloved K-9.
Funds raised from this outing will go to the David J. Fahey, Jr. Scholarship Fund for St. Edward High School. Register online today.
What:
4 Person Scramble; shotgun start at 10 a.m.
Where:
Bob-O-Links Golf Course, 4141 Center Rd. (Rte. 83) in Avon, Ohio (Map)
Cost:
$90 per player includes 18 holes, cart, box lunch and dinner
Spread the word with this flyer
Sponsorships available
Interested in sponsoring a hole ($100) or donating a prize? Please email Chris Porter or Jeff Porter.