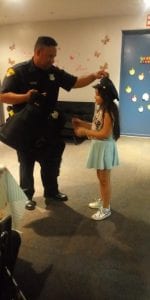 On Tuesday July 16, CPD Community Relations Officer Freddy Diaz had the opportunity to visit "La Mariposa" camp (The Butterfly). This summer camp focuses on empowering young Latinas to believe they can accomplish any dream or goals they have.
The camp is held at Hispanic Umadaop on Scranton Road in the Tremont neighborhood of Cleveland.
We chatted, laughed, and shared our thoughts on challenges the young people face.
I know they were motivated to follow their dreams!