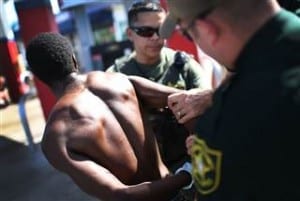 An emergency room doctor calls it as "five-dollar insanity." A rehab director says it's the "devil's drug."
On the street, it's known as flakka — a synthetic crystal imported from China that is wreaking havoc in South Florida and threatening to spread its misery and profits across the country.
It's cheap, crazily addictive and terrifying. A single dose smoked, swallowed or snorted can give a user a potent but fleeting rush — or turn them into a paranoid zombie with superhuman strength and off-the-charts vital signs.
In the 14 months since the epidemic began in Broward County, 60 people have died. Hospitals are getting dozens of patients a day. And some nights, half the calls to police are flakka-related emergencies. Read more…
Editor's Note: Our thanks to Vivian Gambino-Holly of the Metropolitan Crime Clinic of Cleveland for bringing this matter to our attention.