The public is invited to this ceremony dedicating the new Officer Derek Owens' Memorial Park on November 9, 2019.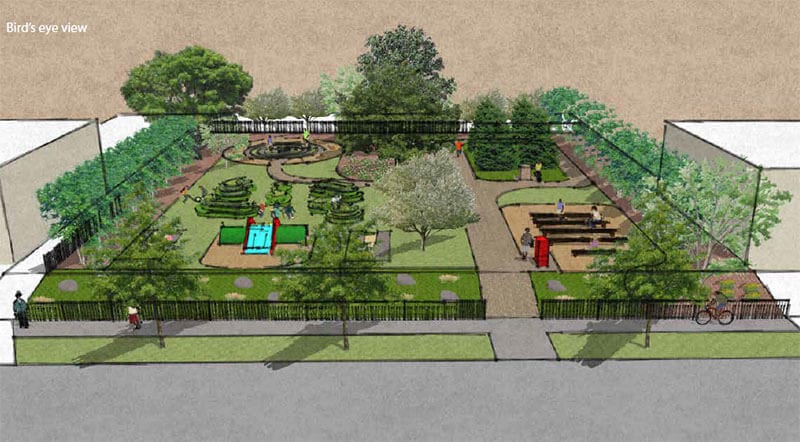 A dedication for a new 18,000+ sq. ft. public park on Cleveland's east side — Officer Derek Owens' Memorial Park — will be held on November 9. The collaborative project was the effort of many community partnerships and will serve as a beautiful public gathering space. It will open Spring 2020 thanks to efforts of the family of fallen Cleveland Police Officer Derek Owens, Cleveland Police Foundation, Western Reserve Land Conservancy, Saint Luke's Foundation, Cleveland Foundation, LAND studio and others.
Saturday, November 9, 11 a.m.
Officer Derek Owens' Memorial Park
10404 Parkview, Cleveland
The park is composed of three parcels of land consolidated into one to form the new 18,022 sq.ft. space. Features of the new park include reflective walking paths made from the sandstone foundations of demolished neighborhood structures, new plantings and trees- including favorites of Officer Owens- and a play set, courtesy of the Cleveland Browns.
The Cleveland Police Foundation is the owner in perpetuity and will provide the maintenance and upkeep of the park.
History
Cleveland Police Officer Derek Owens was shot and killed in March 2008 while responding to a call to the 10400 block of Parkview Avenue, just off of Martin Luther King, Jr. Drive. Officer Owens and his partner responded to a dispatch to investigate youth gathered in a vacant garage of an abandoned house at 10410 Parkview Avenue.
Officer Owens loved serving his community and leaves behind his wife, Ericka, his two children Sydni and Chandler, his parents, Wayne and Barbara, and his sister Dawn. Residents of this block of Parkview wanted to show their respect and condolences to the family, community, and the Cleveland Police Department by establishing a reflective park in the memory of Officer Owens and in unity with his family. Many community partners and organizations came together to make the Officer Derek Owens' Memorial Park possible.