The Cleveland Police Foundation proudly announces that the recipient of our Community Partner of the Month for December 2018 is Carol Black.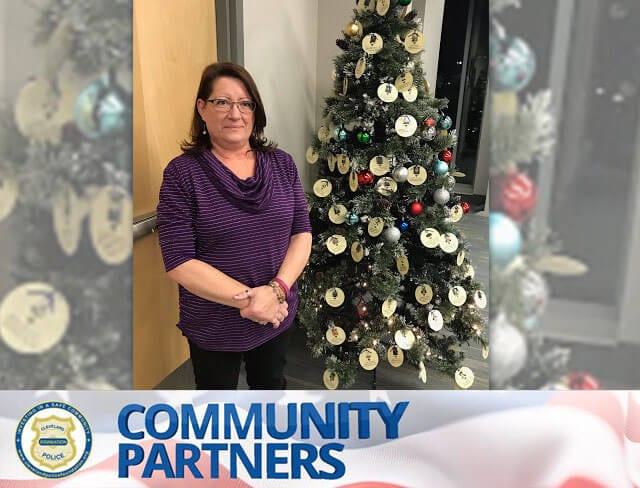 Carol Black is a long time member of the Cleveland Police Citizens Police Academy Alumni. She is very active in all community events and is a strong supporter of the Cleveland Police Department.
A few years ago fellow alumni member Val Addy suggested something should be done at Christmas time to honor our CPD Fallen Officers so Carol Black decided to go with that idea, and boy did she ever! Carol made five sets of laminated ornaments, one for each police district with each CPD Fallen Officer's name, picture, and end of watch date. So now on each Christmas tree in each police district there are 110 ornaments, dating back to the first fallen officer in 1853.
When asked about Carol's endeavor, Sergeant Tim Higgins, the supervisor in charge of the alumni stated "Carol is very active in the alumni as well as her community and we are all proud of her for making this a very special Christmas."
It is because of her dedication and devotion to her community and the Division of Cleveland Police that we name Carol Black the Cleveland Police Foundation Community Partner of the Month for December 2018.
Let us all hope and pray that we never have to add another ornament to these trees.