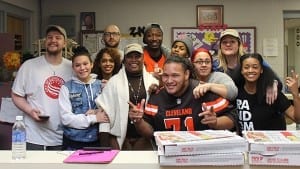 Simultaneously, Danny Shelton was in and out of his comfort zone Wednesday, February 17th at Cleveland's Michael Zone Recreation Center.
Surrounded by smiling, laughing kids who had no idea he'd be inside the gym just a few minutes earlier, Shelton was in his element, making those around him feel the joy he shows every moment he's on and off the field. But then, it was time to shoot hoops. And, well, that's not exactly at the top of the defensive lineman's list of strengths.
"I had to get him at his weakness," said Ricky Smith, the founder of Random Acts of Kindness Everywhere. "He's got little arms."
As Smith, one of organizers of Wednesday's surprise event, poked a little fun at him, Shelton's smile grew even wider. It was non-stop fun on a day that saw the Browns and R.A.K.E. collaborate to #give10 and deliver more than 300 footballs, courtesy of the Browns, to members of all four Cleveland Police Athletic Leagues and local youths.
The Cleveland Police Foundation and PAL want to thank the Cleveland Browns and Danny Shelton for this Random act of kindness and thinking of our children!!