The Cleveland Police Foundation is proud to announce we have partnered with the Saint Luke's Foundation and provided 55 new safety approved football helmets to the Cleveland P.A.L.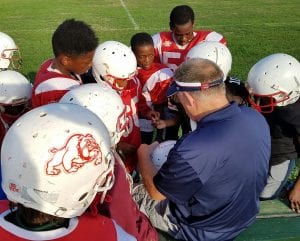 They are the Termites (5-7) years of age, Midgets 8-10) years of age, PeeWees (11-13) years of age, and Bantams (14-17) years of age.
I visited the team's practice recently at the Zelma George Recreation Center along with P.A.L. Executive Director Bob Kumazec, and Schutt Sporting Good's representative, Seamus Gowan which provided the helmets. The kids were thrilled when they got a look at the new helmets displayed on the bleachers, and they got to personally autograph two special helmets that will be presented in appreciation to The Cleveland Police Foundation and to the Saint Luke's Foundation. I spoke with head Coach Bam, a former semi-pro football player himself who stated " On behalf of all the kids and coaches I would sincerely like to thank both The Cleveland Police Foundation, and the Saint Luke's Foundation for these much needed safety updated helmets".
It was something special to witness the dedication, and enthusiasm by not only the players but by Coach Bam and his assistants. While watching this practice I realized the need for programs like this to exist knowing that these 75 kids were on this field playing football and not walking the streets of the neighborhood or hanging out on the corners. We then applied the sponsorship decals to the helmets, said good-bye to the kids at which time Executive Director Bob Kumazec summed the evening up by stating " Before we can allow our youngsters to participate safely in the sport of tackle football it is critical that they have the proper protective equipment. Many thanks to The Cleveland Police Foundation, St. Luke's Foundation, and Schutt's Sports for helping to provide our Reddog youth football program with fifty-five brand new football helmets. On behalf of Cleveland P.A.L. and our youngsters, thank you for your much needed support. Without it, we would be unable to provide this program".
A big thank you goes out to Coach Bam and his dedicated coaches for providing to these youngsters not only this knowledge of football but also the importance of going to school, obtaining good grades, but most of all respect for themselves and others. It truly was a positive experience for me and hopefully The Cleveland Police Foundation, and the St. Luke's Foundation will be able to help the P.A.L. Reddogs again next year. Good luck to all the teams in the upcoming playoffs…..
Bob Guttu C.P.F.)