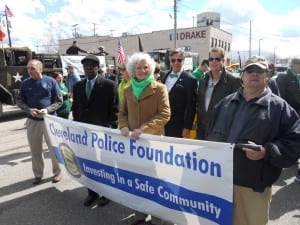 The 149th Annual Cleveland Saint Patrick's Day Parade was held on Thursday, March 17, 2016 and the Cleveland Police Foundation was well represented with an enthusiastic bunch of supporters joining the nearly 11,000 other marchers.
     It was an honor and pleasure to march directly behind our dedicated C.P.D. officers down Superior Avenue and greeted warmly by the tens of thousands that came downtown to observe the parade. Our trek ended at East 3rd & Rockwell with the sun shining throughout the parade, which lasted the better part of two hours.
Marching with the CPF were board members John Anoliefo, Jim Craciun and his fiancé Dorothy Bahm,
Tom Klocker, and Marcia Nolan, 
CPF Community Engagement Committee member Cyndi Rice and her daughter Destiny, and CPD Citizens Police Academy Alumni Association members Mike Griffin and John Wong, CPF Executive Director Chas. Lane and Community Outreach Coordinator Bob Guttu.
     Thanks to all who came out and participated. See you next year. 
Bob Guttu, Cleveland Police Foundation.