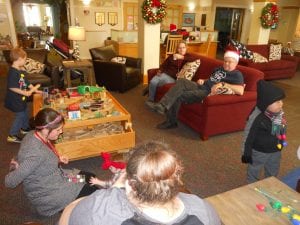 On December 12, 2019 the 37th annual Cops for Kids and Christmas was held at the Ronald McDonald House!
The facility was beautifully decorated for the season as the kids waited for the arrival of Santa Claus. The children received t-shirts, toys, sang Christmas carols with the police officers, and when Saint Nick arrived, they got to sit on his lap for a chat. Upon completion, everyone gathered in the cafeteria for a nice lunch and a good time was had by all!
A big thanks goes out to all the officers and volunteers that made this yearly event a success and made this day special for these special children. When asked about this event that he started 37 years ago retired CPD Officer John Thomas stated "It is a humbling experience to see these children every year that are dealing with all sorts of health problems that we can perhaps help them forget about those problems for one day and have them spend time with our officers and Santa." Well said J.T. and here's hoping we can continue to do this for another 37 years!
Submitted by Bob Guttu, CPF Community Outreach Coordinato