"This is a welcome addition to our efforts in reaching the community and will significantly assist in conveying equipment and supplies into the neighborhoods so we can participate in community events. Thank you CPF!" – CPD Deputy Chief Wayne Drummond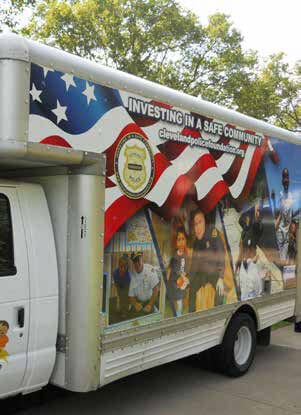 The CPD Bureau of Community Policing unveiled its Cops For Kids cargo truck at the second annual "Voices Against Violence" community event held at Lincoln Park in the city's Tremont neighborhood August 2016.
The truck is decorated with images communicating positive messaging about community engagement and includes the CPD, CPF and police charities' logos. Although referred to as the "Cops For Kids" truck, it serves many purposes such as supporting the community outreach initiatives by the members of the CPD and its affiliated charities.
The purchase of the truck was made possible through a grant from the Saint Luke's Foundation and individual donations raised through a grassroots social media campaign. Additionally, U-Haul of Cleveland made available the best possible vehicle for purchase, and was most supportive in taking steps to ensure that the "like-new" truck would meet the Division's needs.
Local firm HKM Direct Marketing Communications lent their expertise to have the truck "wrapped," emblazoning it with the messaging to make it the "traveling road show" the CPD desired in order to communicate its mission.
In June, a reverse raffle was held to pay for the finishing touches and equipment needed to get the truck ready for rolling into the neighborhoods. That night, with the supports of Mike and Sharon Hargrove, who raffled off their suite at Progressive Field for an Indian's game, the project was successfully 100% funded. Thanks to all who made this a reality, and for helping our officers to be able to more effectively perform their community outreach activities.