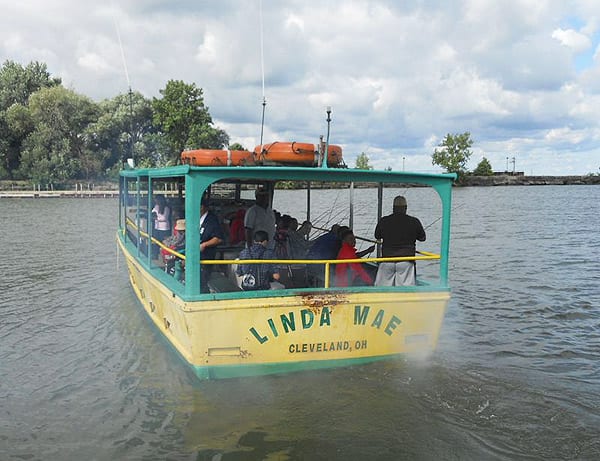 The Linda Mae heads out with an enthusiastic
bunch of kids and officers.
With a grant provided by the Ohio Department of Natural Resources, the Cleveland Police Foundation held six fishing outings for over 400 kids this Summer. Children of all ages participated from the Boys and Girls Clubs, the Police Athletic League, and various neighborhoods from the City of Cleveland. Two of the outings were land based, one at Camp Forbes in Highland Hills and the other at Rockefeller Lagoon in University Circle. The other four were held on Lake Erie with fishing boats from Edgewater Yacht Club (Holiday), the Wildwood Reservation of Cleveland MetroParks (Linda Mae), and numerous private vessels from Eastlake, Ohio.
The children and the officers had a blast and the interaction between them was heart warming. The kids also were presented with an educational component which included being a friend to the environment, practicing good safety principles and good sportsmanship.
Upon completion of the fishing, the group enjoyed lunch and stories of how the big ones got away. The children then left for home with a promise that we will do it again next year.
A big thank you goes to the five Cleveland Police Neighborhood Districts; the CPD Bureau of Community Policing; the Cleveland Clinic, Cleveland Heights, Shaker Heights and the University Circle police departments and Passion For Fishing for partnering with us and for making sure the kids had a great time while learning about respect for the environment, sports fishing as a hobby and working together as a team… and getting to know police officers in a fun situation.
Thanks also to all of our community partners, especially those who helped to make it possible for the Cleveland Police Foundation to facilitate these events: the Edward A. and Catherine L. Lozick Foundation, Ganley Auto Group, Samuel H. and Maria Miller Foundation, All Metal Sales, ArcelorMittal, Cleveland Police Patrolmen's Association, D. G. Yuengling & Son Brewing Company, ESPN Cleveland, Forest City, Milano Monuments, State of Ohio Department of Natural Resources & Division of Wildlife, Sports Fishing Restoration, The House of Larose, and the City of Cleveland Division of Parks, Recreation & Properties.