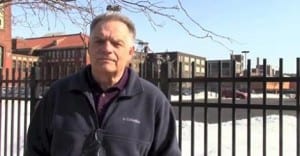 Bob Guttu was a Cleveland cop for 31 years, more than 20 of those in city's community policing unit, where he became one of its biggest proponents.
After he retired in 2008, he wrote a handbook about community policing —  a strategy many police experts believe is critical to building trust between officers and the communities they protect.
I sat with Guttu recently to hear more about his days as an officer who embraced community policing, something he notes was not accepted by all his colleagues, Some believed such efforts were unproductive, he notes in his handbook.
Guttu once staffed a storefront police outpost in Cleveland's North Collinwood neighborhood. The assignment put him in touch with residents almost daily. The trust he earned among residents paid off in 1992 after a 14-year-old Vietnamese-American boy was murdered in a robbery gone bad. Guttu tapped his sources, working the neighborhood in plain clothes and, now and then, on his own time. He convinced people to ignore the "snitches get stiches" street code and to share tips that would bring justice. The information he gathered helped detectives catch the killer. Guttu received a commendation for his work.  Read more…