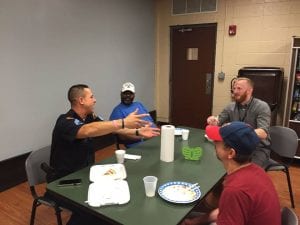 The Cleveland Police Foundation was joined by the Community Policing Unit and 5th District to cook breakfast for 50+ veterans at the Veterans Resource Center on E 152 St. We even had enough food to feed the kids at the day care center next door. What a great day, getting to share a meal with our veterans and then hanging out with some beautiful pre-schoolers. This is what community policing is all about!!
A big thanks to Sgt. Tim Maffo-Judd for setting this breakfast up and to Councilman Brian Kazy for supporting our veterans.
The Cleveland Police Foundation is investing in a safe community!!