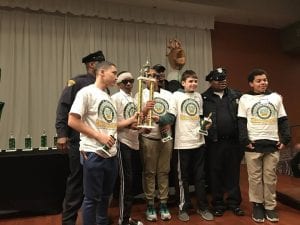 The Cleveland Police Foundation and Cops for Kids were proud to be sponsors of the 2019 Progress with Chess at the Cleveland Public Library's Main Branch. The 18th Annual Progress with Chess Cleveland Metropolitan School District Chess Challenge took place on March 21st and 22nd.
On the first day, there was a tie between Newton D. Baker and Campus International with both schools taking First Place honors. On the final day, Newton D. Baker won the championship outright. Hundreds of Cleveland students from nine different schools played intense games and had a great competition.
A big thank you to International Chess Master Calvin Blocker who played approximately 18 simultaneous chess games with the students! Cleveland Police also played chess with the students while offering life and game lessons.
Great job by the Cleveland Police Foundation's Police Officers of the Year! Detective Carl Bowers, Detective Michael Belle, and Patrol Officer Erwin Eberhardt!! Thanks also to the CPPA & BSPA for contributing scholarship money.
Thanks to all the sponsors who made the 2019 Progress with Chess a success!!