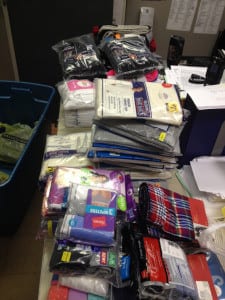 Officers collecting underwear and socks for the homeless are issuing a big thank you to FOX 8 viewers.
After running the story on the Second District police officers clothing drive for the homeless, FOX 8 viewers responded by delivering hundreds of socks, underwear, and thermal tops and bottoms.
The officers have now collected 1,037 pairs of socks and 686 pairs of underwear.
"We are very thankful," said Sgt. Mitch Sheehan.
All of the items collected will be donated to the Metanoia Project, which is a shelter housed in the old St. Malachi School at 25th and Detroit, from mid-November through April.
Sheehan said they will be delivering the items to the shelter Tuesday because it is getting colder this week.  They will also be making another delivery February 3.  Donations will be accepted until February 2.
Also, members of the Sea of Blue will be making dinner at the shelter on February 3.